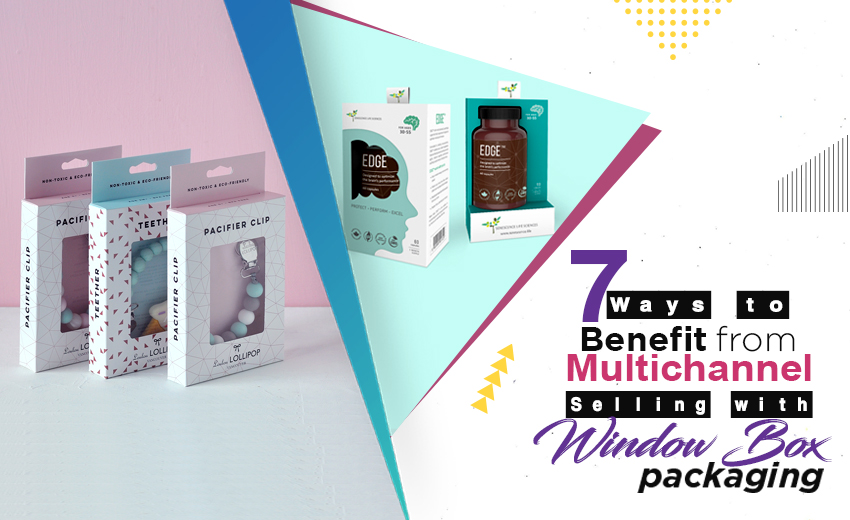 Multichannel Selling
Companies are always looking for ways that can benefit their sales. Taking care of customer satisfaction is one of the most important ways to raise popularity. To make it happen, firms have introduced new techniques in their system. One of the major ways is to use multiple channels of selling. It is important to use this technique nowadays. With the diversity found in the nature of consumers, multichannel selling has gain popularity. Window cut cartons are another way to make sure that the purchaser is comfortable during the purchase.
Window Packaging
To increase the visibility of the product on the inside of the item, window cutting is used. All the boxes can use this type of styling technique. Any shape of the window can be cut on the box. It is then covered with clear PVC to make it look good. There are a lot of ways a window box packaging help different selling methods.
How Multichannel Selling Helps?
As multichannel selling is a new concept, there needs to be a complete understanding of it. It might seem like a hazardous way to market the product, but it has its benefits. Some common ways and their collaboration with window cuts can be seen here. They can help companies understand why to use cut-outs on their packages.
1- Skyrocketing Revenues
Profits and revenues are the main focus of any company. A firm tries to take all the right steps towards an increase in sales. This is made possible by selling items in different ways. As the number of selling points increases, the chances of interacting with more customers raise. There might be a chance that a person sees the product in a shop. Due to multiple reasons is it may be possible to not go through with the purchase. The purchase from that person can be made possible if there is an online store. This is the reason to use window boxes wholesale at retail stores. They can create a desire for purchase in the mind of people window shopping.
2- Reaching Diverse Consumers
Many customers cannot get out of their work-life to go shopping. Some people might feel more comfortable in a brick-and-mortar shopping environment. There are many other reasons that set consumers apart from each other. This diversity is witnessed in customers of all the industries working in the market. It is a massive problem for retailers as their sale target are not met. This comes with the nature of a customer that can be tackled using multiple channels. This way, no person is left behind, and the products get sold at a higher rate. Window cut packages are used to attract online buyers. This lets them know how the product will look like in a real shop.
3- Expanding Your Commerce Landscape
New selling ways bring new challenges for the companies. After solving these problems, a vast network can be built. A lot of new connections can be made in the market. The selling stalls in malls create a perfect opportunity to interact with all kinds of brands working there. An online shopping store expands the communication pool in e-commerce. By combining both of these ways, information can be shared. Help can be taken from the business associate of one channel for the other. Both acquaintances can sell their products together in window boxes with logos. This creates brand popularity and mutual links.
4- Better Data Collection
By understanding the need of the buyers in different markets, new information can be gathered. There are different pieces of information that can only be gathered from a particular marketing type. Using the data collected from one type can help the other selling channel. This mutual collaboration benefits the manufactures to the extreme.
5- Provides Security
By using window packaging a sense of security can be achieved in physical stores. Sometimes consumers come with small children to the store. This creates an imminent threat of unwanted accidents. This can be handled with this type of packaging. This intrusive attitude can be avoided by using multiple selling channels. There are some brands that set up selling stalls in the malls. These are just used for marketing while the actual purchase can be made online.
6- Comfort for Buyers
Coming to know that your favorite online store has opened a physical store in your vicinity brings a sense of joy and comfort. A lot of people feel comfortable by seeing the product with their own eyes before buying it. Window cut cartons aid to this problem. The same is the case with street shops. Realizing that they have a website makes the shopping experience more enjoyable.
7- Comfort for Employees
There is a lot of information that cannot be learned by the salesperson. Online databases can be accessed by the employees during the selling of items to gain help. The same goes for online stores. Detailed information about a product can be given to the online client. The sale of products is made easier for the employees through this technique.
Companies use different packaging styles to get benefitted from purchase. Each organization can find its own footing in the market by understanding which channel works best for them.